S T A R D U S T E R



Astronomy & Science

The Adam Health Illustrated Encyclopedia

California Academy of Sciences

FearOfPhysics.com
Physics in action

Hubble: A View to the Edge of Space

International Dark-Sky Association

Where is the International Space Station?

Mars 2001 Odyssey
Thermal Emission Imaging System (THEMIS)

NASA Astronomy Picture of the Day

National Technical Information Service

Phrenicea: Chronicling The Future

Physics 2000
Journey through modern physics

Seeing, Hearing, & Smelling the World

Space Weather
Sun-Earth environment

Member: Tripod Astronomy Link Network

WhirlPoolGalaxy-Astrophotography Site

New Wind Chill Temperature Formula

Your Sky
Interactive planetarium of the Web
A Sun Pillar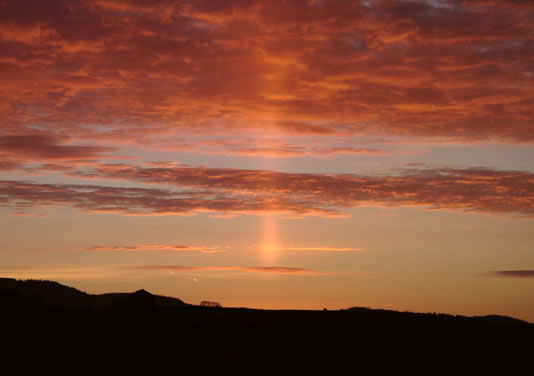 Credit & Copyright: Dave Liquorice
Explanation: Have you ever seen a sun pillar? When the air is cold and the Sun is rising or setting, falling ice crystals can reflect sunlight and create an unusual column of light. Ice sometimes forms flat, stop-sign shaped crystals as it falls from high-level clouds. Air resistance causes these crystals to lie nearly flat much of the time as they flutter to the ground. Sunlight reflects off crystals that are properly aligned, creating the sun-pillar effect. In the above picture, a sun-pillar reflects light from a setting Sun.
---
Tour Guide
Start
Pictures and places

Sensors report that


sentient beings have stopped by.

Favorite Links


Astronomy & Science / Environmental Issues / Free Donation Sites
Museums and Art / References / Webcams / Music / Misc.
To Top


© 2000-2018 Keith Totherow
---